Photograph: John Collier, Questa 1943, FSA/OWI, archived at the Library of Congress.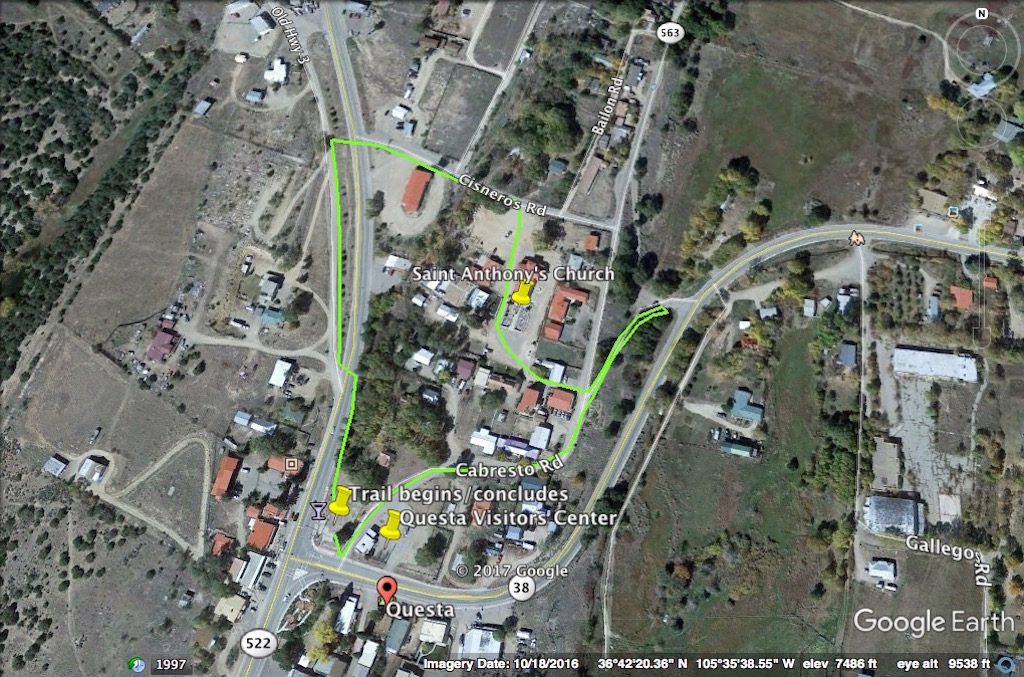 The new Questa History Trail connects downtown to the restored San Antonio de Padua church plaza, and presents a microcosm of northern New Mexican history.
The idea.
The Questa History Trail circles from the village center to the old church plaza and back around on an initial .6-mile route.
At this time, the walk hosts eight informational signs at key historical or cultural viewpoints. Signs share histories and memories, while the beautified trail of Phase Two will encourage exercise and enjoyment for our community and visitors.
Future landscaping work will create roadside walking areas or markings and, where needed, a physical trail itself. Final signs will incorporate historic images and quotes from community members with complete oral histories cached online. The trail will be enhanced by reproductions of historic (and more recent) photographs serving as public art and visual anthropology.
Topics include: timeline of people in this place, ancient settlements, rare geologic features, multi-cultural origins, frontier religious devotion, acequias, the role of mining, and the restoration of Questa's 1800s church.
Phase One – temporary signage on proposed route, initial oral-history recordings and image archives, plus gathering of community input. complete
Phase Two – physical trail building for a safe and well-marked route, long-lasting signage and framework, growing oral-history and image archives.
Phase Three – the Questa History Trail becomes the heart of an expanded Questa History and Community trail system as we connect to trails to our east and west, from the Enchanted Circle to the Rio Grande Trail extending the length of our state!
The future of the full Questa History & Community Trail relies upon community participation.  
Add your input, skills, and knowledge. The team grows with you! Our founding team is a diverse group from the community. More about us below.
Mark Sideris – Historic Saint Anthony's Church Restoration Project foreman, carpenter, and landscape-engineer advisor.
Flavio Cisneros – Retired history teacher and oral-history facilitator.
Jeannie Masters & Kate Cisneros – North Central NM Food Pantry founders and co-directors, and oral-history facilitators.
Tim Long – Small business owner, carpenter, and seasonal ranger at Rio Grande del Norte National Monument.
Alberta Bouyer – Former Questa Tourism Director, writer, marketing consultant, and project administrator.
Martha Shepp – Artist, editor, and project's graphic designer.
with thanks to Carrie Leven –  archaeologist with the Questa Ranger Station.
LEAP* collaborators:
Claire Cote, LEAP director – artist and educator, gentle instigator, mother, and radical homemaker.  Oral History collector and image archive facilitator.
Gaea McGahee, LEAP Creative Associate – Questa Farmers Market founder and manager, Adjunct Anthropology faculty with NMSU/DACC. Oral History collector and image archive facilitator.
This project is funded by:
National Park Services' Rivers, Trails and Conservation Assistance program
Northern Rio Grande National Heritage Area
New Mexico Humanities Council
In collaboration with the Village of Questa
and additional support from the QEDF, Chevron, and Taos Lodgers Tax.
*LEAP is Land, Experience, and Art of Place – a project of local non-profit Localogy. Through LEAP,  stories and photos are being collected into an online archive. The communities, including youth, will engage in research and record interviews with local elders.
The Questa History Trail is a project of the Questa Creative Council. The QCC is a nonprofit tax-exempt organization under section 501(c)(3) of the US IRS Code.
Save
Save
Save
Save